ZRK-DOM sp. z o.o.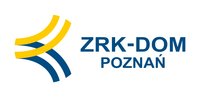 WHO WE ARE
Zakład Robót Komunikacyjnych – DOM w Poznaniu Sp. z o.o. provides its services throughout Poland. We hire the best specialists with many years' experience and professional licences enabling them to perform the most technologically challenging track works. We have specialist equipment and highly efficient machines. We guarantee that our works will be performed with the assumed accuracy as required by laws and regulations. Our services are premium quality which is proven by the fact that we are hired to do jobs on high-speed railways.
OUR HISTORY
Our company has been operating non-stop since 1954. Previously known as a Mechanised Roadworks Unit – DOM in Poznań, we now operate as Zakład Robót Komunikacyjnych – DOM w Poznaniu Sp. z o.o., which can be translated into English as a "Transport Infrastructure Service Company DOM in Poznań, Ltd., where DOM is a reminiscence of the historic name of our company, which proudly continues the tradition of providing track work services.
The company name DOM is a synonym for high quality and contemporary technology of service, not only in Poznań, but in the entire railway infrastructure construction industry.
Since 1 September 2001, following the adoption of the 8 September 2000 Act concerning the commercialisation and restructuring of the state-owned enterprise "Polish National Railways", we have been trading in a new legal form of a limited liability company.
The year 2004 marks a beginning of the company's second semi-centennial period of contribution towards the development, modernisation and maintenance of railway infrastructure in Poland.
OUR SERVICES
ZRK-DOM Poznań has experience in providing railway infrastructure construction and maintenance services, such as:
construction and re-construction of railway lines and stations,
regular maintenance and heavy repair of tracks,
construction and maintenance of civil engineering structures,
retamping,
ballast clearing,
chemical plant removal,
repair, maintenance and construction of overhead cantenary systems,
provision of CDM coordination services,
repair, maintenance and preparation for technical inspection of equipment that falls under the remit of the Office of Technical Inspection,
crane and bucket truck services,
rental of track work and construction machinery and equipment.
Starting from the year 2018, in response to the needs of the market, we have been expanding beyond our core objects, which used to be mainly maintenance works in the track infrastructure industry. Subsequently, we have now branched into the railway investment projects market. Consistent work on staff skills and attention to the expansion of our machine fleet made it possible for us to develop in such industries as: civil engineering, electrical power engineering, and OCS. In the recent years, our company has acquired specialists (engineers) with professional building licences in the areas of interest, and so we were able to set up:
a Railroad Track Unit,
a Land Surveying Service Unit,
an Engineering Works Unit,
a Power Works Unit,
an Automation Works Unit.
We provide our railway infrastructure services mainly in the Wielkopolskie, Lubuskie, Zachodniopomorskie, Łódzkie and Mazowieckie provinces of Poland.

CONTACT US
Zakład Robót Komunikacyjnych - DOM w Poznaniu Sp. z o.o.
ul. Kolejowa 4
60-715 Poznań
Phone/ fax: +48 (061) 63 33 659
e-mail: sekretariat@zrk-dom.com.pl